Watch the video version of this blog here.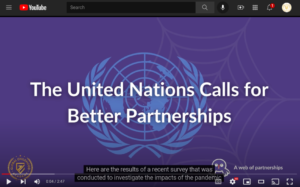 Text version of the blog below:
Whether you are a mom, teacher, school leader, consultant, or government policymaker, you are probably involved in several formal or informal partnerships. There are contracts, MOUs, or agreements involved in some partnerships, but others may be verbal, ethical, or gentlewoman's agreements ?.
Gov/NGO/consulting firm –> working on a national project.
Parent/teacher –> in school setting making plans for a child.
Child/child –> two children on the playground building a home for a bug.
Despite who you are or what the partnership is for, the United Nations says that 72% of partnerships are based on sharing knowledge & expertise (According to a recent report).
Furthermore, the need for partnerships is increasing in response to COVD-19.
–> 68% said that we need better / stronger partnerships post COVID.
Why? 
What's so crucial about partnerships? 76% is related to funding, while 68% is related to staffing, capacity, and expertise sharing.
Through more robust partnerships, we can:
Obtain resources to overcome barriers that we are facing.
We have a better chance to serve vulnerable and marginalized groups:

young children
women
older people
homeless people
migrants
& people with disabilities
How? 
How can we strengthen partnerships?
Having a specific skill set in one area does not mean that you are also skilled in partnering with others to use that skill within the realm of a partnership. Like couple's counseling, we could all benefit from learning how to be better partners in our business and formal relationships.
The United Nations recommends that (1) we design and participate in learning activities to develop the skills of the individuals and organizations involved in a partnership. (2) We need to learn how to build engagement across the parties involved. (3) We need to utilize technology to maintain and nurture this engagement. (4) We need to find ways to develop dialogue, reflection, and guidance.
Now more than ever… we need to build a WEB of partnerships.
How are you involved in partnerships? What do you do to nurture these partnerships? Click here and write about your experience in developing and nurturing partnerships post COVID.
The Global Childhood Academy (GCA) Platform is building a global web of partnerships. We are the first multi-sectoral, multi-lingual, and multi-stakeholder online learning hub for adults and professionals working with children.
Want to learn more about GCA's framework? Click here.
Want to create a FREE account on our platform? Click here.
Want to offer your learning programs to users on our platform? Click here.