We all go down different roads when deciding to become a teacher. Here are some typical stages that one may go through.

This involves preparing individuals to enter into the field of education. These programs are the first form of professional study that individuals complete to enter the teaching profession. These programs typically consist of a blend of theoretical knowledge about teaching and a field- based practice experience (called a practicum).
On the GCA platform, you will find several pre-service teacher training programs:
The Introduction to Early Childhood Education and Care, and the Advanced Certificate in Early Childhood Education and Care. Two great crash courses into early childhood education and perfect for those thinking about getting into early education or changing their careers.
The NCFE CACHE Level 2 Certificate Introducing Caring for Children and Young People – which is a great option for those who are ready to start applying for a job as a teacher's aid or a teaching assistant. This course builds a teacher's theoretical knowledge and offers a practical practicum where learners can take part in some volunteering while they learn.

In-service training is given to employees during the course of employment. Teachers who receive this training may have started their journey in teaching as an assistant teacher or a teacher's aid, and then take part in practice-based training programs.
The NCFE CACHE Level 3 Diploma for the Early Years Workforce (Early Years Educator) is a rigorous and comprehensive in-service practice-based, diploma program that will help learners gain their credential as an internationally certified teacher.

A teacher's daily life is never short of ongoing challenges. They are constantly dealing with challenges that were not explicitly addressed in a training program prior to their employment and they need to continuously find ways to innovate to keep children engaged and help them to develop to their fullest potential.
At this stage, many teachers need access to a wide range of professional development programs (CPD), role models, feedback, collaboration, and authentic experiences. Teachers can get access to this through joining platforms such as GCA which allows them immediate access with international training institutions. Teachers also need access to resources, technology, and tools to help them apply these learnings to practice.
A sample of CPD courses are available here:

During a teacher's tenure, they will often want to specialize in a certain area that they are passionate about. For example, a teacher might want to specialize in the area of supporting children with special needs, curriculum development, protecting children from sexual harassment, or learn about developing children's identity, global citizenship to ensure equality, equity, access, and quality.
GCA partners offers a specialized certificate to help teachers learn how to implement a curriculum for protecting children from sexual abuse and harassment – Taking A Stand: Helping Children Use Critical Thinking to Prevent Violence and Sexual Abuse.
NCFE CACHE Level 3 Award for Special Educational Needs Coordinators in Early Years Settings is a great program for teachers passionate about specializing in SENCO.

Life as a teacher begins the day you realize that you are always a learner. – Anonymous
At some stage of a teacher's life, they may want to climb the career ladder within their existing area or move on to an adjacent area. Hopefully, the teacher still wants to stay within the childhood field, and if that is the case, then GCA offers adjacent opportunities for teachers.
For teachers who want to move into a leadership role, NCFE CACHE Level 5 Diploma in Leadership for Children and Young People's Services is a great option to develop leadership, administrative, and management skills to get a teacher ready to manage any center that serves children, such as a preschool, school, after-school, or enrichment program.
For teachers who want to move into social work, health, entrepreneurship, or advocacy, there are multiple programs that can be found on the GCA platform. Create a free account and browse through the learning catalogs to explore some exciting opportunities.
Despite the stage that you are in now, the Global Childhood Academy (GCA) Platform is your lifelong partner here to support you in your education journey.
Want to stay up to date with topics like this? Create an account on the GCA platform now by clicking here, it's free!.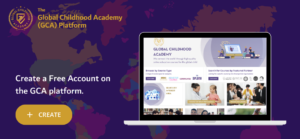 GCA is a
Global Hub
Empowering organizations and adults who serve children
The Global Childhood Academy (GCA) Platform is an online hub for credentialing and upskilling adults who care for, protect and educate children.
GCA's global mission is to serve young children by creating a systems-based, child-centered learning hub.
We built an infrastructure to bring together educators, social workers, health professionals, parents, law enforcement officers, lawyers, judges, media, and advocates – all on one platform to access learning programs offered by global organizations in multiple languages.